T-Box AR - Android 9.0 System CarPlay Ai HD Dash Cam Wireless CarPlay Android Auto 4G+64G 1080P Ai Box
Regular price
$299.99 USD
Regular price
$499.99 USD
Sale price
$299.99 USD
Unit price
per
Sale
Sold out
Guaranteed SAFE Checkout
 
✅
 About T Box AR
TBox AR is a brand-new smart AI box that combines the functions of Carlinkit AI Box and 1080P HD dash cam perfectly.
Converts the wired Carplay to Android system, you can switch the system between Android 9.0, wireless Carplay, wireless Android Auto and the original car system easily.
Free download and install massive APP software from Google Play Store, such as Tiktok, Netflix, Youtube, etc.
Watching your favorite videos on Youtube, Netflix, or playing games in the car.
Supports SIM card and TF card so that can make calls and surf the Internet without the mobile.
Super Easy to Use, mini size, plug and play.
TBox AR is a good HD dash cam to help you record the 1080P high-definition video when you are driving on the road. When you are in an emergency, it will activate the emergency recording function automatically and lock the recording to prevent the videos from being overwritten.
🔽 NOTE
Applicable Models:
Before buying, please check if your original car is in the compatible list. The product only works for vehicles with factory Apple CarPlay.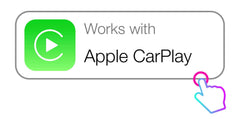 Supported Smartphone Versions:
Phone with iOS 10 and above supports Carplay.
Android 11.0 and above Android phones supports Android Auto.
✅
 Convert Original Car Screen to HD Dash Cam
TBox AR itself runs the Android 9.0 system. You can switch between four systems easily at will.
When you connect the device to the car via Bluetooth & Wifi, click the "Autokit" icon to access Wireless CarPlay or Wireless Android Auto, and you can also choose to return to the original car system when you need it.
Just plug and play, auto connect, no additional installation is required.
✅
Equipped with Qualcomm Chip and F1.6 Large Aperture
F1.6 large aperture, 30 ° lens adjustment, with 2 million pixel high-definition lens, can capture more light sources and record 1080P high-definition video, day and night driving records are clearly visible.
148° ultra-wide viewing angle covering three lanes so that you can easily grasp the road conditions and cope with various driving situations.
✅
148° Ultra Wide-angle Lens
The wide angle of the ultra wide-angle lens is enough to cover three lanes of traffic, gives you a full view of the road ahead.
The 148° ultra wide-angle view will not only reduce blind spots which make your drive safer but also allow you to record more beautiful and richer pictures on the road.
✅
Built-in Android 9.0 - Download Various APPs on Google Play
Enjoy massive APPs from APP store, such as Tiktok, YouTube, Netflix and you like apps. More choices, more pleasures, better driving experience.
✅
Automatic Emergency Recording
Built-in high sensitive gravity sensor, when a sudden shock/collision is detected, will automatically lock and protect the recording video and pictures, to prevent it from being overwritten. The scene of the accident can be truly restored.
Start the loop recording with the car, automatically overwrite the earlier video when the memory card is full and release memory, no need to delete it manually. It supports insert into a TF card with a maximum expansion space of 128G at any time.
✅
Stronger Performance, Lower Power Consumption
Qualcomm Snapdragon 8-core Processor Chip is designed to be fast, intelligent, smooth, and secure with amazing graphics.
High specification configuration, equipped with 4G running memory + 64G storage memory can be expanded to 128G.
✅
Built-in "LoadKey" App, can be adjusted directly in the car
Built-in "Loadkey" App, view pictures and download HD videos in real time, it also view locks emergency and loop recordings.
✅
Built-in GPS Glonass
High sensitivity GPS system built-in, even if your car has no navigation function, you can still use the Map App with it.
✅
Support Split Screen
You can enjoy videos while navigating. Parents and children enjoy time in the car together!
Some apps can also display picture-in-picture, make video apps full screen and display Google Maps on small screens. 
✅
Built-in YouTube and Netflix apps
It is no longer a problem to watch YouTube and Netflix in the car, just plug in the ai box, open the built-in YouTube and Netflix apps, and start the cinema fun while driving.
✅
 Multiple Functions of Ai Box Dash Cam
Small box with big functions, multiple functions let you match.
✅
Support SIM Card & TF Card
Our adapter with an Qualcomm 8-core processor chip, 3GB RAM + 32GB ROM and large capacity storage space, Scalable 128G.

It supports independent 4G/3G/2G sim card, which means that CarPlay ai box can be used as a mobile WiFi route to be a hotspot to other device.
✅
 Easy Installation, Safe to Use
One-piece design, can be installed directly! Adjustable camera, giving you a comfortable shooting angle.
How to install:
Step 1: Use the special 3M glue for the driving recorder to stabilize the driving recorder on the glass

Step 2: Use 3.5M cable we provided to plug into the dash cam Type-C port

Step 3: Insert the Type-A/ Type-C port of the 3.5M cable into the car USB port
Package List:
Please Note:
Carlinkit Tbox-AR is a 2-in-1 device that combines Carlinkit Android 9.0 System AI Box and 1080P HD Dash Cam.
The SIM Card and the TF Card needs to be purchased separately by yourself.
It supports a minimum capacity of 32GB and a maximum capacity of 128GB TF Card.

The product's country version we send to you will be matched the receipt address filled in your order. For example, if your delivery address is in the United States, even if you ordered the EAU version, we will send you the NA version in case you order in a mistake. If you confirm that you need to use this device in other countries such as Europe or Asia, please leave a remark in the order, and we will remind the warehouse and send it out according to the version you ordered.
New Carlinkit Ai Box release! It has a thinner appearance and better performance with more memory. 👉Ai Box (Android 11.0 System)
New CarlinKit A2A Wireless Android Auto Adapter release! If your car built-in wired Android Auto and you want to convert your wired Android Auto to wireless, you can choose 👉Carlinkit A2A Dongle
If you want to use Carplay and Android Auto in Aftermarket Android Head Unit, you can choose 👉Carlinkit Autokit
It's specially made for Android head units, which is suitable for model system versions above Android 4.4+.
If your car has factory-wired Carplay but you only want to convert your wired Carpay/ Android Auto to wireless and no need the multimedia function, you can choose 👉Carlinkit 3.0/4.0
>
Compatible Vehicle Models List:
We also provide OEM service if you want to sell your own branded products.

Please contact us if you want to sell your own branded wireless Carplay adapter products.
Aftermarket Head-Units: Alpine Pioneer Kenwood

Alpine: DAF9

Kenwood: DDX918WS

Pioneer:

DA12

Z7250BT

AHV-233

AHV-1440NEX

AVH133

AVH-2550NEX

AVH-4200NEX

AVH-ZL5150BT

AVH-Z3100DAB

AVH-Z5200DAB

AVH-Z7100DAB

AVIC-2400E

AVIC-3400NEX

DMH-C2550NEX

DMH-1500NEX

FH9400DVS

NEX Head Unit

250BT
Acura: NSX, MDX, TLX, ILX, RDX

2017 - 2022 NSX

2018 - 2022 MDX

2018 - 2022 TLX

2019 - 2022 ILX

2019 - 2022 RDX(Unstable Compatibility)
Audi: A3, A4, A4L, A5, A6, A6L, A7, A8, Q2, Q2L, Q3, Q5, Q5L, Q7, Q8, R8, TT, e-tron, S3, S4, S5, A6L new energy, SQ5, RS3, e-tron Sportback, e-tron GT

2017 - 2022 A3

2017 - 2022 A4

2017 - 2022 A5

2017 - 2022 A6

2017 - 2021 A6L

2017 - 2022 A7

2017 - 2022 Q2

2017 - 2022 Q7

2017 - 2022 R8

2017 - 2022 TT

2017 - 2018 S3

2018 - 2020 A4L

2018 - 2022 A8

2018 - 2021 Q2L

2018 - 2022 Q5

2018 - 2020 Q5L

2019 - 2022 e-tron

2019 - 2022 Q3

2019 - 2022 Q8

2019 - 2020 S4

2019 - 2020 S5

2020 - 2021 A6L new energy

2019 SQ5

2019 RS3

2021 e-tron Sportback

2022 e-tron GT
Alfa-romeo: Giulia, Stelvio

2018 - 2022 Giulia

2018 - 2022 Stelvio
Bentley: Bentayga, Continental, Flying Spur

2017 - 2022 Bentayga

2019 - 2022 Continental

2020 - 2022 Flying Spur
Borgward: BX3, BX4, BX5, BX6

2017 - 2022 BX3

2017 - 2022 BX4

2017 - 2022 BX5

2017 - 2022 BX6
Buick: Excelle, LaCrosse, Regal, Encore, Envision, Enclave, GT, GT-MPV, GL6

2016 - 2017 Excelle

2016 - 2022 LaCrosse

2016 - 2022 Regal

2017 - 2022 Encore

2017 - 2022 Envision

2018 - 2022 Enclave

2018 - 2022 GT

2018 - 2022 GT-MPV

2018 - 2022 GL6
Cadillac: ELR, ATSL, ATS, ATS-V, CTS, CTS-V, CT6, CT6-V, XTS, XT4, XT5, CT4, CT4-V, CT5, CT5-V, XT6, Escalade / ESV

2016   ELR

2018   ATSL

2016 - 2019 ATS

2016 - 2019 ATS-V

2016 - 2019 CTS

2016 - 2019 CTS-V

2016 - 2022 CT6

2016 - 2022 CT6-V

2016 - 2019 XTS

2017 - 2022 XT5

2019 - 2022 XT4

2019 - 2022 CT4

2019 - 2022 CT4-V

2019 - 2022 CT5

2019 - 2022 CT5-V

2019 - 2022 XT6

2016 - 2022 Escalade / ESV
Chevrolet: Cavalier, Volt, Camaro, Camaro Convertible, Colorado, Corvette, Corvette Convertible, Cruze, Impala, Malibu, Malibu XL, Sail LOVA, Silverado, Silverado HD, Spark, Suburban, Tahoe, Aveo, Bolt EV, Prisma, S10, Sonic, Tracker, Trax, Explorer, Equinox, Traverse, Blazer, Monza, Silverado RST, Captiva, Trailblazer, Silverado LTZ

2016 - 2017 Cavalier

2016 - 2019 Volt

2016 - 2022 Camaro

2016 - 2022 Camaro Convertible

2016 - 2022 Colorado

2016 - 2022 Corvette

2016 - 2022 Corvette Convertible

2016 - 2022 Cruze

2016 - 2020 Impala

2016 - 2022 Malibu

2016 - 2022 Sail LOVA

2016 - 2022 Silverado

2016 - 2022 Silverado HD

2016 - 2022 Spark

2016 - 2022 Suburban

2016 - 2022 Tahoe

2017 - 2020 Aveo

2017 - 2022 Bolt EV

2017 - 2022 Prisma

2017 - 2022 S10

2017 - 2022 Sonic

2017 - 2022 Tracker

2017 - 2022 Trax

2017 - 2018 Explorer

2017 - 2019 Silverado RST

2018 - 2022 Equinox

2018 - 2022 Traverse

2018 Silverado LTZ

2019 - 2022 Blazer

2019 - 2022 Monza

2019 - 2020 Malibu XL

2020 - 2022 Captiva

2020 - 2022 Trailblazer
Chrysler: 300, Pacifica, Voyager

2017 - 2022 300

2018 - 2022 Pacifica

2019 - 2022 Voyager
Citroen: Aircross, Berlingo Multispace, C3, C4, C4 Picasso, C5, C5 Break, C6, Jumper, Jumpy, Spacetourer, C3-AirCross, C3-XR, C4 Cactus, C4-L, C4-Lounge, C4 Spacetourer, C-Elysée, C-Quatre, Berlingo, C5 Aircross

2016 - 2022 Aircross

2016 - 2022 Berlingo Multispace

2016 - 2022 C3

2016 - 2022 C4

2016 - 2022 C4 Picasso

2016 - 2022 C5

2016 - 2022 C5 Break

2016 - 2022 C6

2016 - 2022 Jumper

2016 - 2022 Jumpy

2016 - 2022 Spacetourer

2017 - 2022 C3-AirCross

2017 - 2022 C3-XR

2017 - 2022 C4 Cactus

2017 - 2022 C4-L

2017 - 2022 C4-Lounge

2017 - 2022 C4 Spacetourer

2017 - 2022 C-Elysée

2017 - 2022 C-Quatre

2018 - 2022 Berlingo

2018 - 2022 C5 Aircross
Dodge: Challenger, Charger, Durango, Journey

2017 - 2022 Challenger

2017 - 2022 Charger

2018 - 2022 Durango

2019 - 2021 Journey
DS: DS3, DS3 Cabrio, DS3 Crossback, DS4, DS5, DS 4S, DS 5LS, DS6, DS7 Crossback

2016 - 2022 DS 3

2016 - 2022 DS 3 Cabrio

2016 - 2022 DS 3 Crossback

2016 - 2022 DS 4

2016 - 2022 DS 5

2017 - 2022 DS 4S

2017 - 2022 DS 5LS

2017 - 2022 DS 6

2018 - 2022 DS 7 Crossback
Ferrari: FF, F12 tdf, California T, F12 Berlinetta, 488 GTB, 488 Spider, GTC4Lusso, 812 Superfast, Portofino, Monza SP1, Monza SP2, F8 Tributo, SF90 Stradale

2016 FF

2016 F12 tdf

2016 - 2021 California T

2016 - 2021 F12 Berlinetta

2016 - 2021 488 GTB

2016 - 2021 488 Spider

2017 - 2021 GTC4Lusso

2018 - 2021 812 Superfast

2018 - 2022 Portofino

2019 - 2021 Monza SP1

2019 - 2021 Monza SP2

2020 - 2022 F8 Tributo

2020 - 2021 SF90 Stradale
Ford: C-MAX, Fiesta, Flex, Focus, Taurus, Edge, Escape, Expedition, F-150, F-250, F-350, Galaxy, Fusion, Transit, Transit Connect, Mustang, Super Duty, Explorer, EcoSport, Ford GT, Lincoln MKX, Lincoln Aviator, Kuga, Ranger, Focus mk4, Mustang Mach-E, Bronco, Bronco Sport

2017 - 2019 C-MAX

2017 - 2019 Fiesta

2017 - 2019 Flex

2017 - 2019 Focus

2017 - 2019 Taurus

2017 - 2022 Edge

2017 - 2022 Escape

2017 - 2022 Expedition

2017 - 2022 F-150

2017 F-250

2019 F-350

2017 Galaxy

2017 - 2022 Fusion

2017 - 2022 Transit

2017 - 2022 Transit Connect

2017 - 2022 Mustang

2017 - 2022 Super Duty

2017 - 2022 Explorer

2018 - 2022 EcoSport

2018 - 2022 Ford GT

2018 - 2019 Lincoln MKX

2017 - 2018 Lincoln Aviator

2020 Kuga

2020 Ranger

2020 Focus mk4

2021 - 2022 Mustang Mach-E

2021 - 2022 Bronco

2021 - 2022 Bronco Sport
Genesis: G70, G80, G90

2017 - 2022 G80

2020 - 2022 G70

2020 - 2022 G90
GMC: Canyon, Sierra, Yukon, Yukon XL, Acadia, Terrain

2016 - 2022 Canyon

2016 - 2022 Sierra

2016 - 2022 Yukon

2016 - 2022 Yukon XL

2017 - 2022 Acadia

2018 - 2022 Terrain
Honda: Accord, Civic, Ridgeline, CR-V, Pilot, Odyssey, Clarity, Fit, HR-V, Insight, Passport

2016 - 2022 Accord(Unstable Compatibility)

2016 - 2022 Civic

2017 - 2022 Ridgeline

2017 - 2022 CR-V

2017 - 2022 Pilot(Unstable Compatibility)

2019 - 2022 Odyssey(Unstable Compatibility)

2019 - 2022 Clarity

2018 - 2020 Fit

2019 - 2022 HR-V

2019 - 2022 Insight

2019 - 2022 Passport(Unstable Compatibility)
Honda-motor: Gold Wing, Africa Twin

2018 - 2022 Gold Wing

2020 - 2022 Africa Twin
Hyundai: Genesis Sedan, Azera, Sonata, i10, i30, i40, Elantra GT, Tucson, Veloster, Santa Fe, Ioniq, Kona, Santa Fe Sport, Elantra, Santa Fe XL, Accent, Nexo, Palisade, Venue, iload

2015 - 2016 Genesis Sedan

2015 - 2018 Azera

2015 - 2022 Sonata

2016 - 2022 i10

2016 - 2022 i30

2016 - 2022 i40

2016 - 2020 Elantra GT

2016 - 2022 Tucson

2016 - 2022 Veloster

2017 - 2022 Santa Fe

2017 - 2020 Ioniq

2017 - 2022 Kona

2017 - 2019 Santa Fe Sport

2017 - 2022 Elantra

2019 - 2021 Santa Fe XL

2019 - 2022 Accent

2020 - 2022 Nexo

2020 - 2022 Palisade

2020 - 2022 Venue

2020 iload
Infiniti: Q50, Q60, QX50, QX80, QX55, QX60

2020 - 2022 Q50

2020 - 2022 Q60

2020 - 2022 QX50

2020 - 2022 QX80

2022 QX55

2022 QX60
Jaguar: E-Pace, F-Pace, I-Pace, XE, XF, XJ, F-Type

2019 - 2022 E-Pace

2019 - 2022 F-Pace

2019 - 2022 I-Pace

2019 - 2020 XE

2019 - 2022 XF

2019 - 2020 XJ

2019 - 2022 F-Type
Jeep: Compass, Grand Cherokee, Renegade, Wrangler, Gladiator

2017 - 2022 Compass

2018 - 2022 Grand Cherokee

2018 - 2022 Renegade

2018 - 2022 Wrangler

2020 - 2022 Gladiator
Kia: Soul, Optima, Optima Hybrid, Sedona, Soul EV, Cadenza, Sorento, Sportage, Forte, Niro, Optima Plug-In Hybrid, Niro Plug-In Hybrid, Rio, Stinger, K900, Telluride, Seltos, K5

2014 - 2022 Soul

2015 - 2020 Optima

2015 - 2020 Optima Hybrid

2015 - 2021 Sedona

2015 - 2021 Soul EV

2017 - 2020 Cadenza

2017 - 2022 Sorento

2017 - 2022 Sportage

2017 - 2022 Forte

2017 - 2022 Niro

2017 - 2020 Optima Plug-In Hybrid

2018 - 2022 Niro Plug-In Hybrid

2018 - 2022 Rio

2018 - 2022 Stinger

2019 - 2020 K900

2019 - 2022 Telluride

2021 - 2022 Seltos

2021 - 2022 K5
Lamborghini: Centenario, Aventador, Huracán, Urus

2017 Centenario

2018 - 2022 Aventador

2019 - 2022 Huracán

2019 - 2022 Urus
Land-rover: Discovery, Discovery Sport, Range Rover, Range Rover Evoque, Range Rover Sport, Range Rover Velar, Defender

2019 - 2022 Discovery

2019 - 2022 Discovery Sport

2019 - 2022 Range Rover

2019 - 2022 Range Rover Evoque

2019 - 2022 Range Rover Sport

2019 - 2022 Range Rover Velar

2020 - 2022 Defender
Lexus: ES350, ES, LC, LS, NX, NX300,  RC, RC F, UX, RX, 450H, ES Hybrid, IS, IS500, LC Convertible, LC Hybrid, LS Hybrid, NX Hybrid, RX Hybrid, UX Hybrid

2018   ES350

2018 IS 500

2019 - 2022 ES

2019 - 2022 LC

2019 - 2022 LS

2019 - 2022 NX

2019 - 2022 RC

2019 - 2022 RC F

2019 - 2022 UX

2019 - 2022 RX

2020 NX300

2020 450H

2021 - 2022 ES Hybrid

2021 - 2022 IS

2021 - 2022 LC Convertible

2021 - 2022 LC Hybrid

2021 - 2022 LS Hybrid

2021 - 2022 NX Hybrid

2021 - 2022 RX Hybrid

2021 - 2022 UX Hybrid
Lincoln: MKS, MKX, MKC, MKT, MKZ, Navigator, Continental, Nautilus, Aviator, Corsair

2017 - 2021 MKS

2017 - 2021 MKX

2017 - 2021 MKC

2017 - 2021 MKT

2017 - 2021 MKZ

2017 - 2022 Navigator

2017 - 2021 Continental

2018 - 2022 Nautilus

2020 - 2022 Aviator

2020 - 2022 Corsair
Maserati: Ghibli, Levante, Quattroporte, GranCabrio, GranTurismo

2017 - 2022 Ghibli

2017 - 2022 Levante

2017 - 2022 Quattroporte

2018 - 2021 GranCabrio

2018 - 2020 GranTurismo
Mazda: Mazda6, CX-5, CX-8, CX-9, MX-5, Mazda3, CX-3, CX30, Mazda2, MX-30, CX-50, CX-60

2018 - 2022 Mazda6

2019 - 2022 CX-5

2019 - 2022 CX-8

2019 - 2022 CX-9

2019 - 2022 MX-5

2019 - 2022 Mazda3

2020 - 2022 CX-3

2020 - 2022 CX30

2020 - 2022 Mazda2

2021 - 2022 MX-30

2022 CX-50

2022 CX-60
Mercedes-Benz: A-Class, B-Class, CLA-Class, CLS-Class, E-Class Cabriolet, E-Class Coupe, GLA-Class, GLE-Class, E-Class, GLS-Class, SL-Class, GLC-Class, S-Class, C-Class

2016 - 2022 A-Class

2016 - 2022 B-Class

2016 - 2022 CLA-Class

2016 - 2022 CLS-Class

2016 - 2022 E-Class Cabriolet

2016 - 2022 E-Class Coupe

2016 - 2022 GLA-Class

2016 - 2022 GLE-Class

2017 - 2022 E-Class

2017 - 2022 GLS-Class

2017 - 2022 SL-Class

2018 - 2022 GLC-Class

2018 - 2022 S-Class

2019 - 2022 C-Class
MINI: Clubman, Countryman, Convertible, Hardtop 2 Door, Hardtop 4 Door

2018 - 2022 Clubman

2018 - 2022 Countryman

2019 - 2022 Convertible

2019 - 2022 Hardtop 2 Door

2019 - 2022 Hardtop 4 Door
Nissan: Maxima, Micra, Murano, GT-R, Kicks, Leaf, Rogue, Altima, Qashqai, Rogue Sport, Sentra, Terrano, Titan, Versa, Patrol, Juke

2017 Maxima

2018 - 2022 Maxima(Unstable Compatibility)

2017 - 2022 Micra

2018 - 2022 Murano

2018 - 2022 GT-R

2018 - 2022 Kicks

2018 - 2022 Leaf

2018 - 2022 Rogue

2019 - 2022 Altima

2019 - 2022 Qashqai

2019 - 2022 Rogue Sport

2019 - 2022 Sentra

2019 - 2022 Terrano

2019 - 2022 Titan

2019 - 2022 Versa

2020 - 2022 Patrol

2020 Juke
Opel: ADAM, Astra, Corsa, Insignia, KARL, Ampera-e, Crossland X, Mokka, Zafira, Combo Life, Grandland

2016 - 2020 ADAM

2016 - 2022 Astra

2016 - 2022 Corsa

2016 - 2022 Insignia

2016 - 2020 KARL

2017 - 2022 Ampera-e

2017 - 2022 Crossland X

2017 - 2022 Mokka

2017 - 2022 Zafira

2018 - 2022 Combo Life

2018 - 2022 Grandland
Peugeot: 208, 2008, 308S, 3008, 4008, 408, 301, 308, 308 SW, 508, 5008, Expert, Partner Tepee, Traveller, Rifter

2016 - 2022 208

2016 - 2022 2008

2016 - 2022 308S

2016 - 2022 3008

2016 - 2022 4008

2016 - 2022 408

2017 - 2022 301

2017 - 2022 308

2017 - 2022 308 SW

2017 - 2022 508

2017 - 2022 5008

2016 - 2022 Expert

2016 - 2022 Partner Tepee

2016 - 2022 Traveller

2018 - 2022 Rifter
Porsche: 718, Panamera, Macan, Cayenne, 911, Boxster, Taycan

2017 - 2022 718

2017 - 2022 Panamera

2017 - 2022 Macan

2017 - 2022 Cayenne

2017 - 2022 911

2017 - 2021 Boxster

2020 - 2022 Taycan
RAM: Ram 1500, Ram 2500, Ram 3500, Ram 4500

2018 - 2022 Ram 1500

2018 - 2022 Ram 2500

2018 - 2022 Ram 3500

2018 - 2022 Ram 4500
Renault: Clio, Espace, Kadjar, Mégane, Mégane Estate, Scénic, Grand Scénic, Talisman, Talisman Estate, Koleos, Fluence, Twingo, ZOE

2017 - 2022 Clio

2017 - 2022 Espace

2017 - 2022 Kadjar

2017 - 2022 Mégane

2017 - 2022 Mégane Estate

2017 - 2022 Scénic

2017 - 2022 Grand Scénic

2017 - 2022 Talisman

2017 - 2022 Talisman Estate

2018 - 2022 Koleos

2018 - 2022 Fluence

2019 - 2020 Twingo

2017 - 2018 ZOE
Seat: Alhambra, Ibiza, Leon, Toledo, Ateca, Arona, Tarraco

2016 - 2022 Alhambra

2016 - 2022 Ibiza

2016 - 2022 Leon

2016 - 2022 Toledo

2017 - 2022 Ateca

2018 - 2022 Arona

2019 - 2022 Tarraco
Skoda: Yeti, Fabia, Octavia, Rapid, Superb, Karoq, Kodiaq, Scala, Kamiq

2016 - 2017 Yeti

2016 - 2022 Fabia

2016 - 2022 Octavia

2016 - 2022 Rapid

2016 - 2022 Superb

2017 - 2022 Karoq

2017 - 2022 Kodiaq

2017 - 2022 Scala

2018 - 2022 Kamiq
Subaru: Impreza, BRZ, Crosstrek, Legacy, Outback, Ascent, Forester, WRX, WRX STI

2017 - 2022 Impreza

2018 - 2022 BRZ

2018 - 2022 Crosstrek

2018 - 2022 Legacy

2018 - 2022 Outback

2019 - 2022 Ascent

2019 - 2022 Forester

2019 - 2022 WRX

2019 - 2022 WRX STI
Suzuki: Baleno, Ciaz, Hustler, Ignis, Lapin, Solio, Solio Bandit, Spacia, Spacia Custom, SX4 S-CROSS, Vitara, Jimny

2016 - 2022 Baleno

2016 - 2022 Ciaz

2016 - 2022 Hustler

2016 - 2022 Ignis

2016 - 2022 Lapin

2016 - 2022 Solio

2016 - 2022 Solio Bandit

2016 - 2022 Spacia

2016 - 2022 Spacia Custom

2016 - 2022 SX4 S-CROSS

2016 - 2022 Vitara

2018 - 2022 Jimny
Toyota: Aygo, Avalon, Corolla Hatchback, Camry, C-HR, Sienna, RAV4, 4Runner, Corolla, Highlander, Prius, Prius Prime, Sequoia, Supra, Tacoma, Tundra, Yaris, Venza

2018 - 2022 Aygo

2019 - 2022 Avalon

2019 - 2022 Corolla Hatchback

2018 - 2022 Camry

2019 - 2022 C-HR

2019 - 2022 Sienna

2019 - 2022 RAV4

2020 - 2022 4Runner

2020 - 2022 Corolla

2020 - 2022 Highlander

2020 - 2022 Prius

2020 - 2022 Prius Prime

2020 - 2022 Sequoia

2020 - 2022 Supra

2020 - 2022 Tacoma

2020 - 2022 Tundra

2020 - 2022 Yaris

2021 - 2022 Venza
Vauxhall: ADAM, Astra, Corsa, Insignia, Viva, Ampera-e, Crossland-x, Mokka, Zafira

2016 - 2020 ADAM

2016 - 2022 Astra

2016 - 2022 Corsa

2016 - 2022 Insignia

2016 - 2022 Viva

2017 - 2022 Ampera-e

2017 - 2022 Crossland-x

2017 - 2022 Mokka

2017 - 2022 Zafira
Volvo: XC90, S90, V90, XC60, V60, XC40

2016 - 2022 XC90(Unstable compatibility with carlinkit4.0)

2016 - 2022 S90(Unstable compatibility with carlinkit4.0)

2016 - 2022 V90(Unstable compatibility with carlinkit4.0)

2016 - 2022 XC60(Unstable compatibility with carlinkit4.0)

2016 - 2022 V60(Unstable compatibility with carlinkit4.0)

2016 - 2022 XC40(Unstable compatibility with carlinkit4.0)
VW: Spacefox, CC, Scirocco, Amarok, Beetle, Beetle Cabriolet, Golf R, Caddy, California, Caravelle, e-Golf, Fox, Golf, Golf Cabriolet, Golf SportsVan, Golf Variant, Golf SportWagen, GTI, Jetta, Lamando, Multivan, Passat Variant, Polo, Sharan, Tiguan, Touran, Transporter, Passat, Atlas, Crafter, CrossFox, Gol, Saveiro, Voyage, Arteon, Bora, Magotan, Sagitar, T-Roc, ID.3, ID.4

2016 Spacefox

2016 - 2018  CC

2016 - 2021 Scirocco

2016 - 2022 Amarok

2016 - 2019 Beetle

2016 - 2019 Beetle Cabriolet

2016 - 2022 Golf R

2016 - 2022 Caddy

2016 - 2022 California

2016 - 2022 Caravelle

2016 - 2021 e-Golf

2016 - 2021 Fox

2016 - 2022 Golf

2016 - 2022 Golf Cabriolet

2016 - 2022 Golf SportsVan

2016 - 2022 Golf Variant

2016 - 2022 Golf SportWagen

2016 - 2022 GTI

2016 - 2022 Jetta

2016 - 2022 Lamando

2016 - 2022 Multivan

2016 - 2022 Passat Variant

2016 - 2019 Polo(Except for Polo with Type-C)

2016 - 2022 Sharan

2016 - 2022 Tiguan

2016 - 2022 Touran

2016 - 2022 Transporter

2016 - 2022 Passat

2017 - 2022 Atlas

2017 - 2022 Crafter

2017 - 2022 CrossFox

2017 - 2022 Gol

2017 - 2022 Saveiro

2017 - 2022 Voyage

2018 - 2022 Arteon

2018 - 2022 Bora

2018 - 2022 Magotan

2018 - 2022 Sagitar

2018 - 2022 T-Roc

2021 - 2022 ID.3

2021 - 2022 ID.4