CPC200 - A2A Wireless Android Auto Adapter for Car with Factory Wired Android Auto & Android Head Unit
Regular price
$199.99 USD
Sale price
$92.99 USD
Unit price
per
Sale
Sold out
Guaranteed SAFE Checkout
Share
 
✅
 About Carlinkit A2A
CarlinKit A2A Wireless Android Auto Adapter Dongle, support original car built-in wired Android auto to wireless Android auto, allowing users to connect easily to car's existing Android Auto-capable infotainment system without having to plug any cables into your phone.
Just connect via bluetooth and wifi to make it easier to sync all your favorite apps on the car display simply, such as Spotify, Waze, Whatsapp, Music, etc.
Plug and play, non-inductive connection, say goodbye to wired constraints.
Automatic Connection, After the first connection, it can be automatically connected to your phone when starting the car.
Low power consumption design ensures that the product can run stably in different environments.
Adopt authentication and 5.8Ghz data transmission, data transmission speed faster and lower latency.
Compatible with the original car operation, continue the original car sound quality.
Call your voice assistant (e.g, Goole) for help anytime, release your hands and drive safer.
Support OTA Online Upgrade, solve problems quickly.
🔽

NOTE
Before order it, please confirm below message, then you can judge whether A2A is suitable for your car.
1.Only works for car with Factory Wired Android Auto and connect it by cable.
2.Only supports for Android phone version Android 10.0 or above. (Not suitable for iPhone)
If all answer is "Yes", it will work for your car.
✅
Convert Your Wired Android Auto to Wireless!
A2A wireless Android Auto adapter converts the car's own wired Android Auto to wireless, and the phone can connect to the Automotive Head Unit wirelessly.
Just connect via Bluetooth and WiFi to make it easier to get all your favorite apps, media, and messaging apps on the car display simply.
✅
 Comparison Before and After Use
Say goodbye to the shackles of data lines, wireless is more convenient.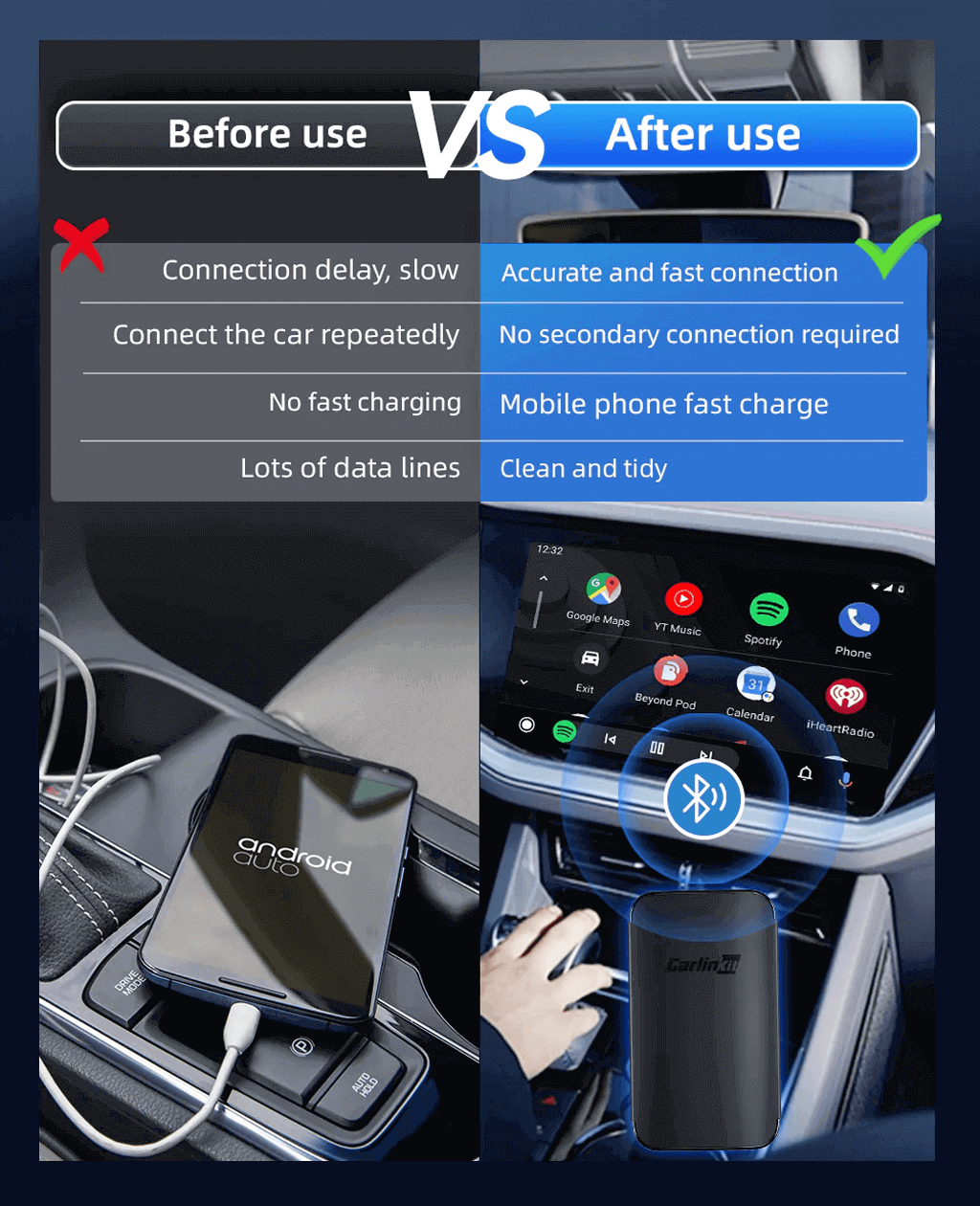 ✅
 5.8GHz Fast and Stable Transmission
Dual-band wireless transmission, stable and uninterrupted. Not susceptible to wireless interference, faster transmission rate, lower latency.
Reduce the audio latency problem through technical means, response speed is better than ordinary products and connection speed is as fast as lightning, giving users a smooth experience!
✅
Seamless Auto Connect! Set Out within 10s!
Automatically recognize the connection and enter Android Auto system, ready to use when you start the car. Convenient, Fast, Worry-free.
✅ Voice Assistant Free Your Hands
Smart car life, comfortable driving experience.
Making calls, viewing messages becoming a lot easier and safer.
✅
 Easy Access to Android Auto App
Enjoy the joy of Wireless Android Auto App, such as Music, Spotify, Goole Maps, etc. More choices, more pleasures, better driving experience.
✅
 Retains Original Car Operation and Sound Quality
Compatible with the original car microphone, so you can listen to music, make phone calls, use the voice assistant and other functions, the sound quality of the original car will continue.
No need to change driving habits, no need to disassemble the car, instantly get started with the original car operation.
Continued operation of the original buttons
Continues the original knob operation
Continues the original Voice Control operation
✅
 Small, Compact, and Unobtrusive.
Just fit inside the center console vertically or in the glove box, then forget about it, it takes almost no space at all. 
✅
OTA Online Upgrade
Enter the upgrade URL in the mobile browser,You can upgrade the version and background settings online.
✅
 Plug and Play
No need to disassemble the car, just connect the product to the USB interconnection port to realize the conversion of Android Auto from wired to wireless.
How to Use:
Step 1: Insert the product into the car USB port

Step 2: Turn on Wifi and Bluetooth, pair the "Autokit-xxx"

Step 3: Connect to use wireless Android Auto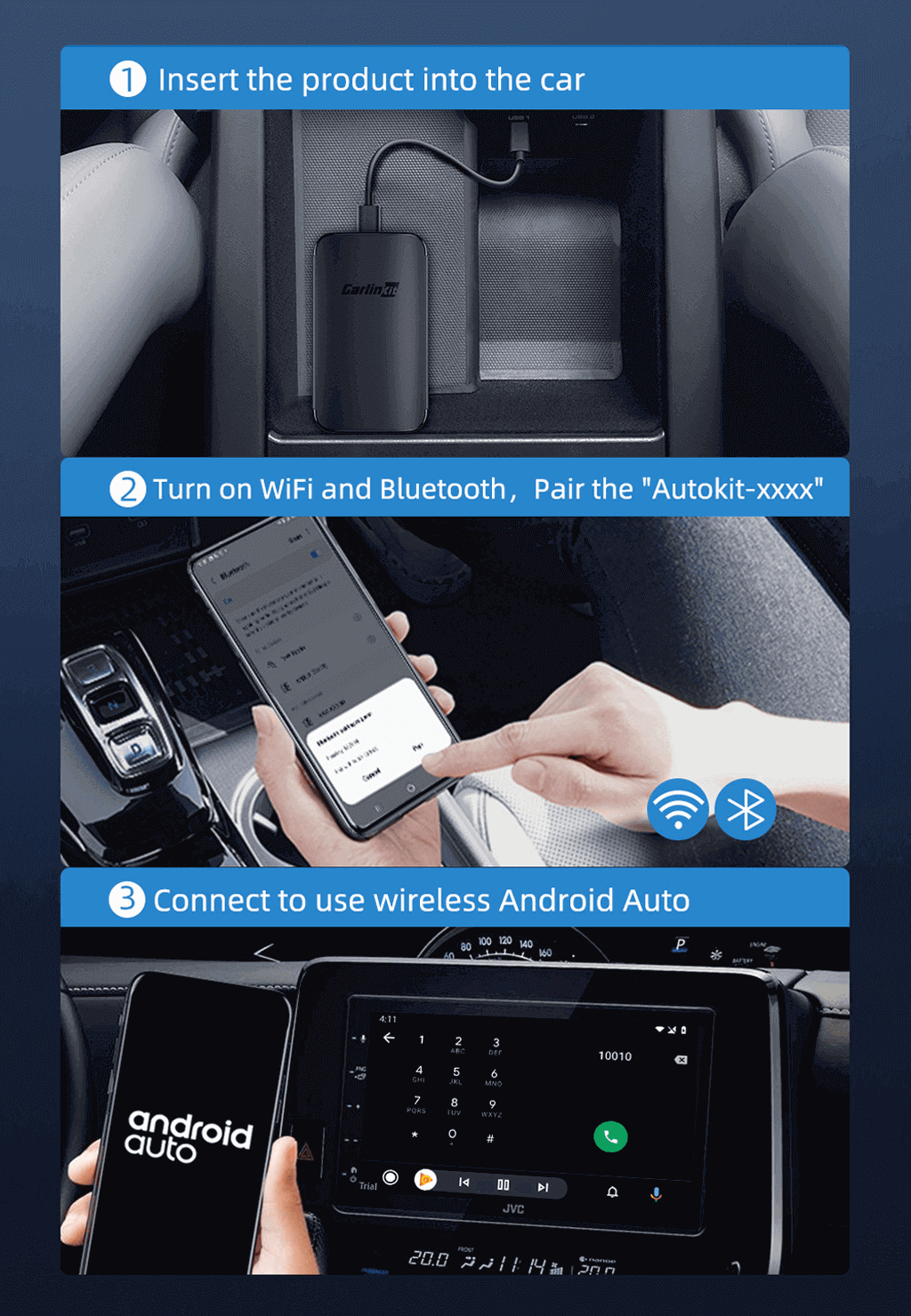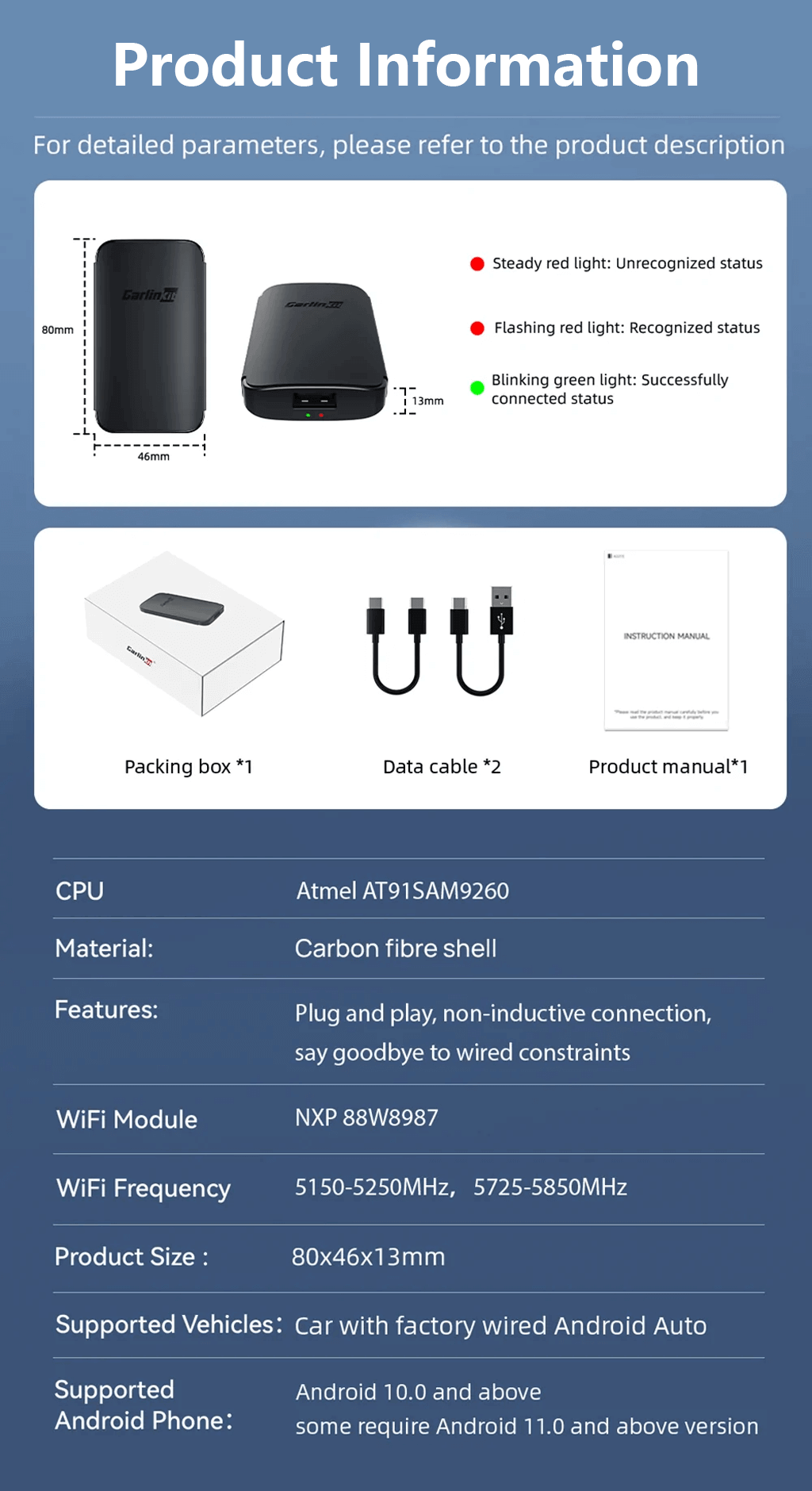 News:
New Carlinkit Ai Box release! It has a thinner appearance and better performance with more memory. 👉Ai Box (Android 11.0 System)
If you want to use Carplay and Android Auto in Aftermarket Android Head Unit, you can choose 👉Carlinkit Autokit
It's specially made for Android head units, which is suitable for model system versions above Android 4.4+.
If your car has factory-wired Carplay but you only want to convert your wired Carpay/ Android Auto to wireless and no need the multimedia function, you can choose 👉Carlinkit 3.0/4.0
>